20+ Best Personal Blog, Magazine, News WordPress Themes of 2019
Sep 27, 2018

· by · 3 comments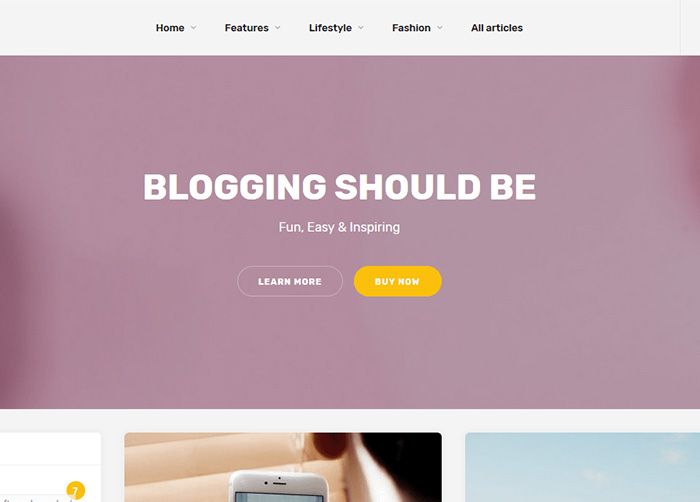 Are you looking for the best Personal blog, magazine, news WordPress themes in the marketplace ? If the answer is yes then you came to the right place. We've got the best, awesome modern, creative themes for you. WordPress is one of the most preferred blogging platforms due to its flexibility and powerful features. A standout feature is WordPress' themes, which are highly customizable and allow you to design your website to match your brand. If you're web-savvy, you can create your own WordPress theme and upload it for personal use. But if you're not a website designer, or you only know the basics of HTML and CSS, then choosing the perfect theme is crucial to your site.
Soledad Multi Concept Blog/Magazine/News/Personal blog WordPress Theme
Blogging is no longer just about documenting your opinions and interacting with commenters. With the advent of social media, the emphasis is now on connectivity – and Soledad helps you to both engage and connect with all who visit your website.
Firstly, designing your blog will be no problem – there are over 250 demos ready to download, covering all manner of niches and industries. Along with six header styles and five article layouts, there is also a choice of two mega menu styles for creating feature-rich navigation. Furthermore, there are another 250 tweaks that can be made from the WordPress Customizer.
Cheer Up Blog / Magazine – WordPress Blog Theme
Cheer-Up is a theme with luxury design options, tailored to be exceptional on all kinds of blogs and minimal magazines. Not only the built-in modern design choices are aesthetically pleasing, it's packed with over 499+ possible layout combinations suitable for blogs and elegant magazines.
Authentic – Lifestyle Blog & Magazine WordPress Theme
Authentic is a light & minimal WordPress theme that will perfectly suit lifestyle bloggers & magazines. It has so many amazing features that will make your blog or magazine stand out among others. Let your visitors enjoy the clean contemporary design of your new website powered by Authentic.
Tribe Coach – Feminine Coaching Business WordPress Theme
Fresh Feminine website for coach designed to look great on any device. Tribe was carefully crafted to allow you to create your own professional coach website quickly and easily without any coding knowledge. Import our demo in one click, customize it in few clicks to your own tastes and you are ready to go!
Especially designed and tailored for female coaches, you will find all the essential features to make your website a successful lead capture tool. Elegant design, social media buttons to grow your audience, option forms to catch more leads, banners blocks to promote your products and services and an about me section to introduce yourself and make it personal…
Writing Blog – Personal Blog
Writing is a clean and minimal blog theme for perfect for writers who need to create personal blog site with simple creative features and effects to make readers feel the pleasure of reading blog posts and articles, Writing personal blog theme mixes between modern, classic and minimal styles and will help you create a simple and clean blog, if you are a blogger, then it's a perfect choice for you if you don't need to have any experiment to setup your WordPress personal blog, it's super simple and easy to setup, you will get high quality, responsive, well crafted blog out of the box to make writers only focuses on writing content, and it has great typography to make your fans and followers focus on every word you write.
Typology – Text Based Minimal WordPress Blog Theme
Typology is a text based WordPress theme created for bloggers that just want to write, without the hassle of looking for the right images. It has a unique design based on beautiful typography which will make your website look good with or without images. Simply write your content and publish – Typology will handle the rest.
Marni – a WordPress Blog & Shop Theme
Marni is a premium, responsive WordPress theme dedicated to lifestyle, fashion, beauty and travel bloggers. Created to capture everyday beauty, from the mundane to the extraordinary. The theme's elegant, clean and minimal layout is crafted to present your beautiful content in an unobtrusive and laid back, yet stylish manner.
The Blogger – A WordPress Blogging Theme for Bloggers
The Blogger could be a good choice for anyone who wants to create a custom personal blog with WordPress.
Thanks to the regular updates that this theme has received since its initial launch, you now get access to an impressive selection of blog website demos that can be imported into your WordPress dashboard in just a few clicks. The personal blog demos of The Blogger are ideal for a range of projects, including food, travel, lifestyle, and general purpose blogs. There's also a stylish blog demo that's aimed at helping users promote their services and skills and hopefully land more clients or other opportunities via their blog.
Regardless of which website demo from The Blogger theme you choose, you'll have a full set of pre-built homage and post and layouts to choose from. Showing off your portfolio is easy too, thanks to the library of page templates. The social media integration should also come in handy, particularly if you are active on visual networks like Instagram or Pinterest. The Instagram feed is particularly eye-catching and well worth considering adding to your site.
As well as all the pre-built content that makes up The Blogger, there's also a library of short codes to make use of. Through this inbuilt functionality, you can easily add tabs, toggles, accordions, alerts, buttons, and more to your content, with just a click or two. You can view these short codes in action on the The Blogger demo if you'd like a better idea of how you can use them on your website.
Regardless of what style of personal blog you want to create, The Blogger could have a pre-built demo that's just right for your project.
Trawell – WordPress travel theme
Trawell is a professional WordPress travel theme carefully designed to help you create a stunning travel blog or travel guide website very easily, featuring a large number of smart features that every travel blogger needs.
Lets Blog | Blog WordPress for Blog
LetsBlog is a clean and minimal WordPress theme for Blog and Magazine web site. Built with the latest WordPress technology. Lets-Blog support responsive layout so it looks great on all devices. It has predefined styling for blog posts which can be imported with one click.
Pluto Clean Personal WordPress Masonry Blog Theme
Rosemary – A Responsive WordPress Blog Theme
Redwood – A Responsive WordPress Blog Theme
Sprout & Spoon – A WordPress Theme for Food Bloggers
Bjorn – Personal WordPress Blog Theme
Laurel – A WordPress Blog & Shop Theme
Journey – Personal WordPress Blog Theme
If you are bloggers, travelers, photographers, illustrators, food lovers or simply you have something important to tell, Journey Theme can be what you are looking for. Tell your story to the World with this unique blog theme for WordPress. Thanks to a clear and simple design enriched with elegant details Journey will make your publication one-of-a-kind! Thank you for your attention. Enjoy!
Cannix – A Vibrant WordPress Theme for Creative Bloggers
Cannix is a vibrant and dynamic WordPress theme designed for unique and creative bloggers. With a choice of post layouts, two fully widgetised sidebars, a striking featured slider area, multiple custom post display locations and carousels, three beautiful custom widgets and support for popular third party widgets; Cannix provides all you need to quickly and easily create a stunning blog that you and your readers will love.
Matilda | Lifestyle Minimal WordPress Blog Theme
Matilda is a professional personal blog, portfolio blog WordPress theme coded with HTML5, CSS3. This theme ideal for personal blogs, portfolio sites, travel blogs, lifestyle blogs, art galleries, photography sites and similar projects.
Matilda blog theme comes with 32 valid HTML files, custom color schemes and beautiful typography elements. If you are looking minimal blog template for your next web design project the Matilda ideal for you.
Linx – WordPress Blog & Magazine Theme
Linx is a WordPress blog & magazine theme with features and design in mind. Its features are thought and implemented carefully to be easy for users of all levels. The demos can be imported easily and modified to fit your needs. If you want to start from scratch, it's also easy just install the theme, play with the settings a bit to create your own unique style and start blogging.