Best WordPress Wedding Themes
Sep 04, 2019

· by · no comments
When a couple makes the decision to get married, the construction of a web page may not be the first priority, but having a wedding website is an excellent solution to inform your guests about everything related to your wedding. link. For example, indicate the location of the church, where the banquet will be held, display galleries of memorable photographs of the couple or the complete list of wedding gifts. Subsequently, it will be enough to include the URL of your web page on the invitation card so that your family and friends are up-to-date with everything related to your celebration.
If you are considering creating a website and do not have programming knowledge or just do not have much time, do not worry, WordPress is a free web page creation platform, easy to install and very simple to use. And with the acquisition of a WordPress theme for weddings and celebrations on our list, your website will have an elegant, beautiful appearance with all the features you may need.
Most of the themes of this collection are simple but come packed with lots of features such as adapted mobile design, unlimited photo galleries and integration with maps Google Maps so you can show the exact location of your church and hall of the banquet. Another aspect that we like very much, is that they usually have a countdown timer on the home page, which informs your visitors very visually of the time remaining for the celebration to take place and timelines that show the schedule of the different events associated with your marriage link. Also if your guests subscribe to your blog or newsletter, you will receive an email with the latest news.
Undoubtedly your wedding is one of the most important events of your life, and everything must be perfect. By choosing any of the topics from our list of the best WordPress themes for weddings, weddings, and celebrations, you will save a lot of time in choosing the right theme for that special day. All of them have a premium quality, are highly customizable with unlimited colors and easy to install.
When making our collection, we wanted to take into account the different needs that wedding websites can have , and therefore you will find topics for couples who seek to inform their guests of everything related to your event, professional photographers, organizers of events, or simple blogs where you can share your emotions and photographs with your family and friends.
Alis Wedding Planner WordPress
Alis is a romantic and elegant premium WordPress template specifically designed with lots of love for weddings and wedding planning companies. With this template, you do not need knowledge of web programming. You will not need to see a single line of code to create the website of your dreams.
With this template you can show all the details of who is the couple, your love story, an attendance confirmation form, unlimited portfolios with your photos and more romantic and memorable videos, a signature book, a contact form, a blog where to keep your guests informed of the latest news of your celebration, the location of the event, and more.
Alis includes a nice collection of personalized icons oriented to weddings. It includes several Premium WordPress extensions for free that will help you enormously in the process of building your website as Slider Revolution – popular creation and maintenance tool for fantastic sliding image banners with amazing animation effects; Cube Portfolio – that will take your portfolios of photographs and videos to a higher level; WP101 Video Tutorials – for the management of your videos; Premium Icons – extensive icon gallery.
In addition, it is compatible with the plugins: Beaver Builder WP Page Builder – powerful page generator; WooCommerce – so you can include an online store on your website; Max Mega Menu – to include mega menus with several columns and contents; WPML – for multilanguage sites; bbPress – to include a forum; and various extensions that will help you in the positioning of your website such as Yoast SEO, Total Cache, Google Analytics MonsterInsights , and many more.
Honeymoon &Wedding
Honeymoon & Wedding is a beautiful and delicate premium WordPress theme for weddings. It is perfect to serve as a complement to your invitation card, with attendance confirmation form, countdown timer for the time indicated and a guest book where guests can leave their best wishes and congratulations.
Honeymoon & Wedding offers unlimited design options thanks to its 10 header styles, 20 footer styles, among other possibilities. This theme features elegant parallax effects and amazing CSS3 animations, 600+ Google Fonts fonts to choose from, installation of demo data with just one click, optimized code for search engines (SEO), is ready to translate to other languages, and more. It comes with a powerful panel of options with which you can customize this theme to your liking easily.
Honeymoon & Wedding is compatible with extensions like WooCommerce, Slider Revolution, bbPress, WPML, SEO by Yoast, Total Cache, Contact Forms 7, Wordfence, among many others.
OneLove – The Elegant & Clean Multipurpose Wedding WordPress Theme
If you are looking for a WordPress template with a romantic, elegant and clean design that will help you make your wedding memorable, OneLove is an excellent solution that you should consider. With 22+ predesigned demos for your homepage and 9+ styles of internal pages – for weddings, wedding anniversaries, wedding planning agencies, wedding planners, wedding shops, wedding blogs and any type of website related to marriage links.
You can easily customize the visual aspect of this template by changing the color of almost any element, its fonts – you can choose from 500+ Google Fonts fonts, and all this through its powerful administration panel. If you do not know anything about code, do not worry because you can import your demos with a single click, to later modify its contents using the popular Visual Composer tool – a powerful generator of pages with a drag-and-drop graphic interface, and the renowned animated banner management tool Slider Revolution. Using shortened codes you can easily include price tables, Google maps, progress bars, calls to action, testimonials, contact forms and much more.
In case you wish to sell any type of product or souvenir through your website, OneLove is fully compatible with the free WooCommerce extension. In addition, you can include unlimited portfolios and galleries of images and videos to show your most memorable moments. OneLove is compatible with the plugin for WPML multilanguage sites, it has an MP3 music player and SoundCloud.
BeTheme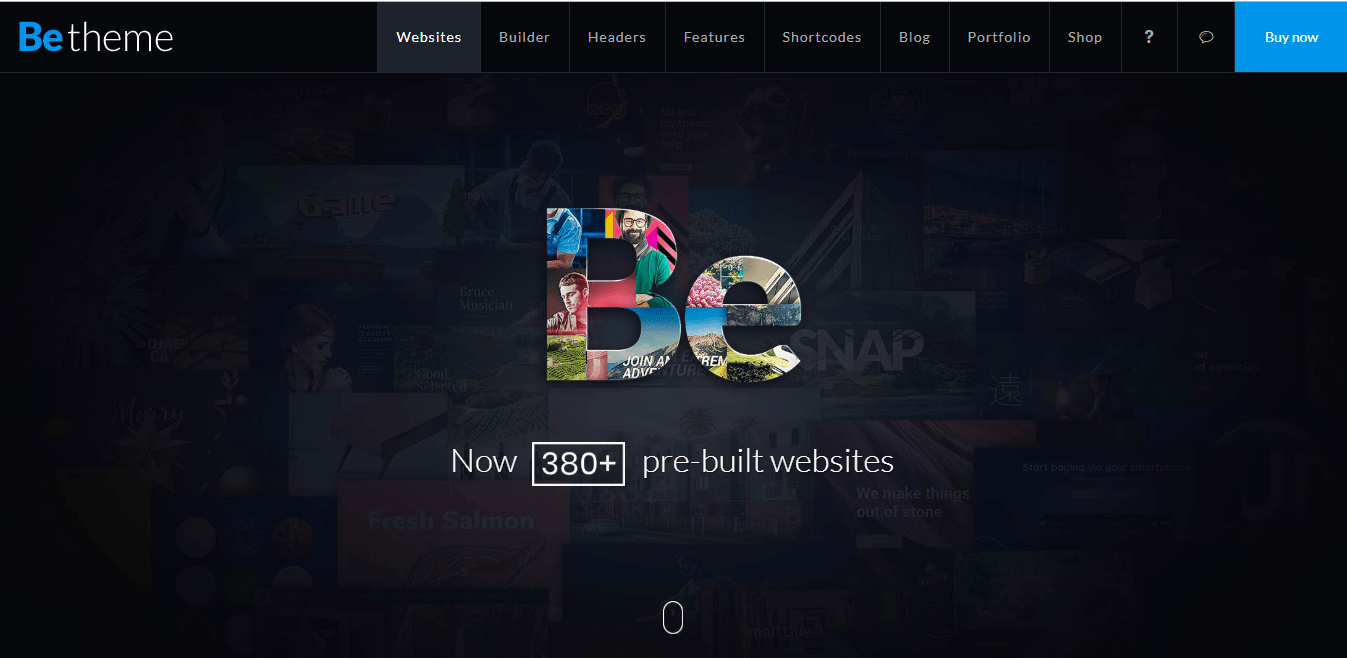 BeTheme is an exceptional multipurpose WordPress theme that can be used perfectly to create a wedding, ceremonies and events website. It stands out for offering in a single package 400+ demos that can be easily installed with just one click. This theme is ideal for future married couples as well as wedding and event organizing companies.
BeTheme has all the necessary features so you can share with your guests all the details of your marriage through an exceptional website for your wedding. Has a countdown timer for your link, maps Google Maps which show the location of the church or banquet, elegant photo galleries to share your most memorable moments, the guest list and how they will be organized in each banquet table, among others.
This exceptional offers 2 graphics page creation tools – Visual Composer and Muffing Builder 3, so you can easily create your content without having to know anything about web programming. BeTheme offers an advanced panel of options from which you can customize your visuals with unlimited colors, choose from 600+ fonts Google Fonts, Mega menus, Parallax effects, and background videos. It has 20 customizable header styles and 200+ shortcodes that will make your job much easier.
BeTheme is optimized for search engines (SEO) and the loading speed of your pages is super fast. Its design is 100% adapted to mobile devices, tablets, and retina (HD). It supports the extension for WPML multilanguage sites and is ready to easily translate to other languages.
Divi
Divi is one of the best templates for WordPress that exist today. It is highly flexible, incredibly powerful and completely customizable. Divi has been developed to meet all the needs you may need to have a website of any kind. It stands out for its versatility and ease of use, as well as its modern and clean design, 100% adapted to all types of mobile devices, tablets, retina (HD) and web browsers. This template comes with the powerful drag-and-drop Divi Builder graphic construction tool, so your hands will not have to write a single line of code to include the content you want.
Divi brings 20+ predesigned styles that can be quickly installed to create your wedding website in a matter of minutes. Later you will have the possibility to combine elements of different demos and customize their visual appearance through its powerful panel of options previewing the changes in real-time.
This template is completely translated into 32 languages, including Spanish. It is optimized for search engines (SEO) such as Google, Yahoo or Bing. It offers compatibility with the WooCommerce extension, so you can have an online store. Divi is an excellent choice that we recommend you keep in mind.
Grand Wedding | Planner WordPress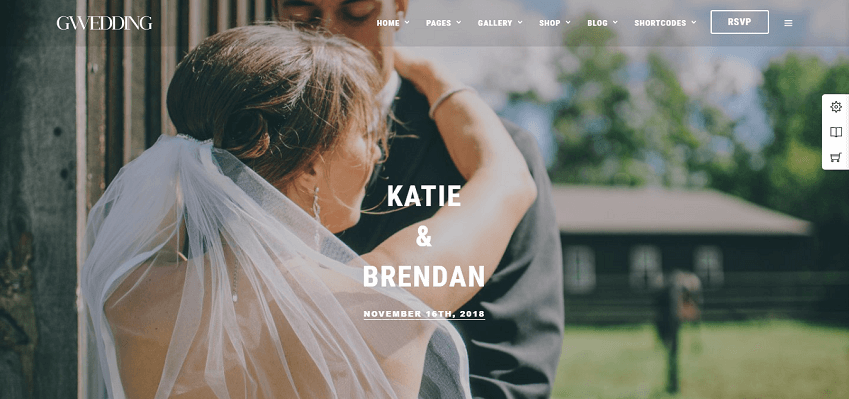 Grand Wedding is an exceptional WordPress theme that offers a complete solution to create a website for weddings and wedding planning agencies, in a very short time and without knowing anything of code. Through its import tool, you can install all the data included in your demo as pages and entries, all images, menus, animated banners, theme settings, and modules.
Grand Wedding has 300+ options so you can customize this theme to your liking, seeing the changes in real-time. It includes pre-designed demos that encompass a multitude of niches related to weddings such as websites for personal wedding announcements, wedding invitations, wedding planners, wedding photographers, location of the celebration, and more.
Your attendance confirmation form allows you to include your own personalized fields, so that your guests can choose their menu preference, number of attendees, etc. From the administration area, you can easily manage confirmations. An account with the regressive counter of time remaining for the expected link.
This theme comes with 8 gallery styles, which will help you to share with your visitors your beautiful memories through photographs and videos in full screen, choosing the number of columns to show or in a horizontal style.
Your guests will be duly informed of data as relevant as the location of the church, the banquet hall, as well as hotel information and prices. For wedding planners and photographers it includes beautiful price tables with the option to calls to action integrated with WooCommerce products – supporting payments via PayPal and other means. You can even create discount codes and coupons. Grand Wedding is ready to translate easily into another language.
Moment
Moments is a WordPress theme developed so that you can create a wedding website where you can share the lasting memories of your wedding link, or any other event and celebration. It is a perfect solution for those interested in presenting impressive invitations and announcements of events, forgetting about physical invitations. You can receive attendance confirmations from your website and use your photo galleries to share the most memorable moments that occurred at your ceremony and at subsequent events. Moments has an elegant online store where you can sell products, and a design perfectly adapted to any device and screen size.
This theme offers unlimited typography and color options so you can give your wedding website a totally personalized design and adjusted to the visual aesthetics of your celebration. For example, if you plan to decorate your table with a country-style, where table centerpieces and napkins stand out in green, your website may also be a match. The free inclusion of the Visual Composer extension will prevent you from having to know anything about code, and thanks to the Revolution Slider plugin, you will be assured to capture the attention of your visitors with beautiful couple photographs presented prominently on the main page. Moments have formed to confirm attendance and all the basic functionalities to make your wedding website a success.
Jevelin
Jevelin is a nice and elegant multipurpose WordPress template, easy to use and customize. It can be used for wedding websites, events, and celebrations, as well as baptisms and communions. Its design is fully adapted to all types of mobile devices and retina (HD).
This template has a specific demo for marriage events that can be imported with a single click. With Jevelin you will have a large number of useful functionalities for wedding and celebrations websites such as: regressive time counters, vertical timelines to visually show the different events that take place during the link, photo galleries and videos of the best moments of the couple and the event, online store so you can sell products related to your celebration, as well as price tables, testimonials, locations with Google Maps, logos of online stores where you can buy the gift list, and more. Jevelin is fully customizable through its powerful administration panel with hundreds of available options.
Jevelin includes a drag-and-drop page creation tool, so you do not need to know anything about web programming or see a single line of code. It also includes the Slider Revolution extension, which is an important help when it comes to intuitively building banners with beautiful photographs that excite your guests. And if that was not enough, it is optimized for search engines (SEO).
Wedding Planner
As its name suggests Wedding Planner is a premium WordPress template specially designed for the creation of websites of companies that organize weddings and celebrations. It's modern, elegant and creative design is perfect for all types of businesses related to weddings, baptisms, communions, silver weddings, golden weddings, etc. It is also ideal for couples who want to create a website for their link.
Wedding Planner comes with 8+ predesigned demos for your homepage, and 20+ predesigned internal pages, which you can use to build your website in a very short time. This template gives you the option of creating a modern website on a single page or multiple pages and has impressive photo galleries where you can show details of your best works.
Wedding Planner has different styles of portfolios and blogs. In case you want, you can use the popular page building tool – Visual Composer, perfect for those who have little knowledge of web programming. In addition, it is developed with the best SEO practices, to help your pages position themselves as best as possible in search engines such as Google or Yahoo. Its design is 100% adapted to mobile devices and retina (HD). It is ready to translate easily into another language and is compatible with the WPML multilanguage plugin.
Wedding Industry
By choosing Wedding Industry you can create a website for any type of company related to weddings, celebrations, and events. It is ideal for couples who are going to marry, wedding planners, wedding florists, locals, and celebratory halls, bridal dressmakers, photographers for weddings, etc.
Wedding Industry is so simple to use that you do not need to know anything about code, since it includes free the popular Visual Composer page builder – drag and drop, as well as a powerful panel of options with which you can easily customize this WordPress template to your taste It also has the possibility to include an online store where you can sell your products – centerpieces, flowers, wedding dresses, etc.
Wedding Industry is designed to facilitate the work of reporting every detail of your link, having location maps with Google Maps, various animated banners to show touching photos of couples, is compatible with WPML so your website can offer your content in several languages, your code is optimized for search engines (SEO), the loading speed of your pages is very high and much more.